Cooperation with uSens EPSON AR glasses support Fingo gesture interaction
â–¼
Cooperation with uSens Epson AR Glasses Support Fingo Gesture Interaction from Baidu VR
Silicon Valley company uSens, which specializes in AR VR interaction solutions, announced at CES that it will cooperate with Epson Epson, the global technology leader. Its new Moverio BT-300 AR glasses will support uSens's 26-DOF gesture interaction technology. This interactive AR glasses will be exhibited for the first time during the CES at the uSens booth (Sands Expo, Level 1, Hall G, booth #50001).
Moverio BT-300 built-in Android 5.1 system, using Intel Atom X5 processor, with a 500-megapixel front camera and OLED display, with IMU head tracking technology. This head-up uses a split-type design that separates the processor, power supply, and head-mounted display and places it in a small black box that connects to the head-mounted display via a data cable. The whole machine is very light and weighs only 65 grams.
The image quality of the BT-300 is also impressive. It is also the first company to use an OLED display in the augmented reality head-up, which is an improvement over previous DLP projection waveguide displays. The BT-300 also includes a head tracking function that can provide users with a higher sense of immersion.
The BT-300 is targeted at specific industries to meet practical needs and improve production efficiency, such as drone operators and warehouse movers.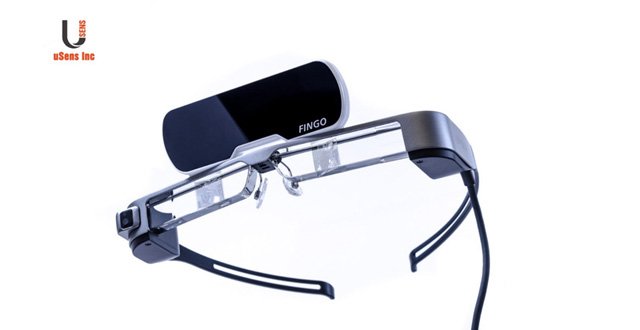 Epson Moverio BT-300 AR glasses real shot map with uSens Ling sense Fingo
The uSens Ling's gesture interaction module Fingo is connected to the Moverio BT-300 AR eyewear via USB and can be placed on the top of the eyeglasses or fixed on the device through a bracket. Consumers can easily achieve a natural gesture-free interactive experience with minimal battery power and minimal computing power consumption.
"We are very pleased to apply the natural gesture interaction technology with our uSens team to our new Moverio BT-300 AR glasses." Eric Mizufuka, Epson's US product manager, said, "We encourage developers to use uSens based on the Epson ecosystem. 's innovative solutions create more natural interaction scenes based on bare hand gestures rather than handles in the entertainment, retail, automotive and other fields."
uSens Ling Sen has released a new generation of developer's version of Fingo hardware and SDK, which has greatly improved on the 26-DOF gesture tracking algorithm, especially in terms of power consumption. Fingo can accurately and quickly identify the user's natural gesture movements, including grasping, pulling, and throwing. It can be used in conjunction with external feature points and can also implement position tracking.
"3D gesture tracking allows users to have better control in the AR VR and enjoy a more immersive virtual experience." Dr. Fei Yue, co-founder and CTO of uSens, said, "Epson released theirs in 2011. The first generation of smart glasses is the leader in the field of AR, and both of us have undergone a large number of pre-tests, which proves that uSens' 3D gesture tracking technology can be perfectly combined with the Moverio BT-300, which will become AR glasses. A new standard that will enable seamless integration of virtual and real world.
Exhibitors can also experience the Fingo series of modules that incorporate gestures and position tracking functions at the uSens CES booth on PC and mobile applications, including Oculus Rift, HTC Vive, Samsung Gear VR, and Google Daydream.
Fingo basic parameters:
• Functional implementation: 26DOF two-hand bone tracking and 6DOF feature point-based position tracking
• System Requirements: Android 4.4+, 64bit Windows 8+
• Supported Platforms: Unity3D, Java, C++, C#
• Product Size: 12.9mm X 37.5mm X 102.4mm
• Lens parameters: Dual infrared camera 640 X 480
• Gesture distance: 5cm – 70cm
• Field of view: Horizontal 140° Vertical 122°
• Frame rate: 60fps
• Delay: 20ms
Come Along Clamp of various type including Alu or steel conductor wire grips,earth wire clamps, OPGW wire grips etc,which is specially used for pulling tight different kind of conductor,earth wire, OPGW cables,etc.It is made of high strength steel or Alu alloy with small volume,light weight,no-damage to conductors.By high quality Alum or steel material and good design,this kind of Self Griping Clamp can be durable and long service life.we are a professional Chinese exporter of wire clamp and we are looking forward to your cooperation. Yangzhou Qianyuan Electric Equipment Manufacturing & Trade Co. Ltd is specialized in manufacturing and trade of electric power line transmission tools. Our main products are Anti-twisting Steel Wire Rope,Stringing Pulley,Hydraulic Crimping Compressors,Engine Powered Winch, Motorised Winch,Wire Grip,Gin Pole,Cable Stand,Mesh Sock Grips,Cable Conveyor,Lever Chain Hoists and so on,which are mainly supplied to power companies,railroad companies and other industry fields.
All our products are certified by China National Institute.
To assure the quality, we will do 100% inspection for raw material, production procedure, packing before shipment,
so we do have the confidence to supply customers with high-quality and high-efficiency products.
"Customer satisfaction" is our marketing purposes,so we have extensive experience in professional sales force,and strongly good pre-sale, after-sale service to clients. We can completely meet with customers' requirements and cooperate with each other perfectly to win the market.Sincerely welcome customers and friends throughout the world to our company,We strive hard to provide customer with high quality products and best service.
wire grip, wire clamps, come along, wire grip clamp, cable clamp
Yangzhou Qianyuan Electric Equipment Manufacturing & Trade Co.Ltd , https://www.qypowerline.com