ON Semiconductor focuses on key automotive applications and continues to explore the Chinese market
The overall development of the global automotive market is improving, and the semiconductor content in automobiles will continue to grow, especially in power systems, lighting, active safety and body applications. New energy vehicles have boosted semiconductor components in automotive power systems by about five times. Fuel economy, advanced driver assistance systems (ADAS), convenience and infotainment systems, and emerging markets, which account for more than 50% of global car sales, drive the global automotive semiconductor market up 7% year-on-year.
ON Semiconductor's broad lineup of automotive electronics solutions
As one of the world's leading suppliers of the top ten energy-efficient automotive silicon solutions, ON Semiconductor offers a broad lineup of products and solutions for automotive applications, from discrete components to standard products to dedicated standard products (ASSP). Integrated Circuits (ASICs), System Basis Chips (SBCs), System-on-Chip (SOCs); module-level expertise and solutions from power modules to image sensors to higher levels of integration.
ON Semiconductor's four product lines for automotive applications include:
1. Standard components: including TVS/protection, rectifier, Zener components, logic, transistors, comparators, operational amplifiers, Mini Gates, EEPROM, etc.
2. Analog products: including drivers, linear regulators, switching power supplies (SMPS), power management units (PMUs), audio ICs, transceivers, ASICs, ASSPs, etc.
3. Power devices: including ignition IGBT, motor control IGBT, power integrated module (PIM), MOSFET, SmartFET, transistor, motor driver, intelligent power module (IPM), etc.
4. Image sensor: covers advanced technologies such as global shutter, rolling shutter, high speed, high dynamic range (HDR), low light / near infrared (NIR) and SOC sensor / processor.
In response to the development of the automotive market, ON Semiconductor actively expands its automotive business. According to the terminal market revenue, the company's 2014 automotive business revenue was 964 million US dollars, accounting for the company's total global revenue ratio increased from 16% in 2008 to 30.5%, the growth trend Very strong. On August 15, 2014, ON Semiconductor completed the acquisition of ApTIna Imaging, which significantly expanded its image sensor business in the automotive market. Today, ON Semiconductor is the world's number one in automotive imaging sensors, start/stop alternators, and automotive adaptive headlamps (AFS).
ON Semiconductor Automotive Key Market Strategy
In China, which ranked first in terms of sales in the automobile market in recent years, car sales in 2014 increased by 8.7% year-on-year to 24 million units, and sales in 2015 are expected to reach 26 million units. The electronic components in automobiles are constantly rising, which are used to improve fuel economy, active safety and comfort, and drive semiconductor growth.
China's auto semiconductor market is expected to grow by 15% year-on-year, which is higher than the global forecast of double the year-on-year growth. Pedestrian and vehicle accident video recorders and LED lighting will continue to maintain strong growth in the Chinese market.
China's auto market has always been the strategic focus of ON Semiconductor. In 2014, ON Semiconductor's China automotive segment revenue accounted for 12% of total vehicle revenue, and will continue to increase its investment in the Chinese market in the future.
Powertrain, lighting, active safety, body and interior are the four key application areas for ON Semiconductor to match the automotive market. In addition, ON Semiconductor offers a range of products and solutions for power and automotive networks (LIN/CAN, FlexRay and Ethernet) for use in a wide range of automotive applications.
power system
The powertrain is designed for engine control, transmission control, ignition system, throttle control, start/stop system, motor control, electric vehicle (EV) / hybrid electric vehicle (HEV) / plug-in hybrid electric vehicle (PHEV) and 48 Related products and solutions such as V system improve fuel economy and reduce exhaust emissions.
It is estimated that the total market size of China's automotive power system semiconductors will reach US$1 billion in 2015, with a compound annual growth rate of 13.4% and a high growth in the next few years. In the face of increasingly stringent energy conservation and emission reduction regulations, ON Semiconductor provides a corresponding power supply solution for start-stop systems to meet the fuel economy and emission reduction requirements of conventional gasoline vehicles. With the expansion of the scope of automobile purchases, new energy vehicles are favored by the market as new environmentally friendly vehicles and are expected to accelerate development. ON Semiconductor will provide a wide range of brushless DC (BLDC) motor drives to support automotive electrification and will introduce high-voltage traction IGBTs for HEV power modules in 2015 to address motor control needs.

Lighting system
Lighting system is a key differentiating factor in automotive design, through LED internal and external lighting (including taillights, ambient lights, etc.), high-pressure gas discharge lamps (HID), headlights (including high beam, low beam, LED turn signals) , LED fog lights and high-speed road LED lights), AFS and motor control, etc., so that vehicle manufacturers improve energy efficiency, enhance visibility safety advantages and create a unique vehicle atmosphere.
In 2015, the total market size of China's automotive lighting semiconductors will reach 500 million US dollars, with a compound annual growth rate of 15.2%, and will have high growth in the next few years. Automotive lighting has always been the advantage of ON Semiconductor. ON Semiconductor offers a range of LED drivers and stepper motor drivers for this type of application, further enhancing safety levels, providing lighting units with high operating temperatures and programmability.

Active safety system
In 2015, China's automotive active safety system semiconductor market will reach 200 million US dollars, with a compound annual growth rate of 22%, and will have high growth in the next few years. Active safety products and solutions cover applications such as ADAS, camera, parking assist/automatic parking, dynamic braking, and suspension control. Based on ultrasonic sensors and CMOS imaging (non-radar) technology, ADAS reduces the complexity of driving operations while reducing and avoiding accidents and improving safety. ON Semiconductor has led the way in ultrasonic parking assist and CMOS image sensor applications.

In the future, each vehicle equipped with an ADAS system will have 10-12 cameras, and the image sensor is a key component of this application. In addition, the regulations on ADAS in Europe and the United States have made the application of image sensors have broad market prospects. By leading the world in automotive image sensors, ON Semiconductor is focusing on ADAS applications, including forward processing of ADAS, such as forward collision warning (FCW), tail collision warning (RCW), and lane departure warning (LDW). Automatic high beam control (AHB), traffic sign recognition (TSR), moving target detection (MOD), pedestrian detection (PD), adaptive cruise control (ACC), blind spot detection (BSD), night vision (NV), etc. In-cabin ADAS, such as passenger monitoring (PM), fatigue driver (DD), driver video recorder (DVR), gesture recognition, etc.; and covers rear view, tail side, front view, panorama, mirror replacement ( MR) and pedestrian/vehicle recorder (PVR), parking aid (PA) viewing angle scheme.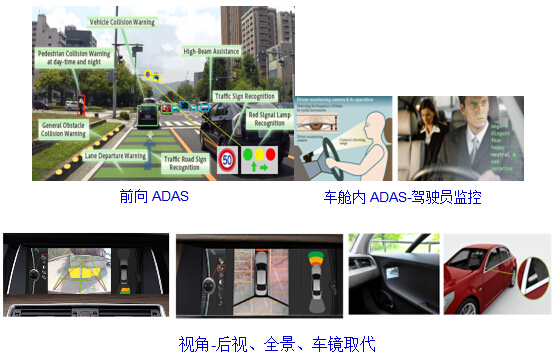 Image sensors from ON Semiconductor have the following advanced features:
-HDR, which makes the exposure more uniform for a clearer image. Even if you drive from the indoor parking lot, you can clearly see the outdoor video and increase the safety of drivers and pedestrians.
- Fisheye Correction (DEWARP), straightens the distortion around the screen so that the driver of the high-car can see the child behind the car
- Spatial Transformation (STE), image extension, left/right viewing, scaling, and more complex overlays with image sensing processor ISP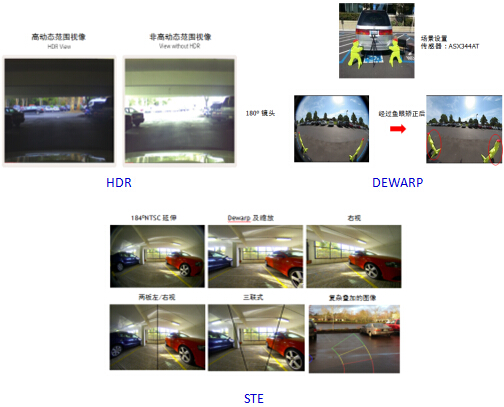 In particular, ON Semiconductor offers a comprehensive range of automotive rear view cameras, including 2MHz SMPS such as NCV890201MWTXG and NCV898031D1R2G, low dropout regulators (LDO) such as NCV8703 and NCV8705, switching MOSFETs such as NVTFS5116PL (u8FL) and BVSS84L (SOT23) ), digital transistors such as SDTC1xxEE, CAN transceivers such as NCV7356 and NCV7341, image processors such as AP0100AT, HDR image sensors such as AR0132AT and AR0140AT, video signal processors such as LC749000, EEPROMs such as CAV25256 (SPI) and CAV24C256 (I2C), logic products Such as NL17SZxx and ESD and so on.
Body and interior
The body and interior include body products and solutions for body computers and gateways, automotive air conditioning (HVAC), doors, mirrors, smart junction boxes, instrument panels, infotainment systems, connections, and active antennas.
It is estimated that the total market size of China's auto body semiconductors will reach 1.5 billion U.S. dollars in 2015, with a compound annual growth rate of 11% and a high growth rate in the next few years. ON Semiconductor offers competitive products such as SmartFETs, stepper motor drivers, low-dropout power supplies and other products for this type of application to meet customers' requirements for automotive comfort and convenience.

Conclusion
In the next few years, the automotive semiconductor content will continue to grow at a high speed, especially in China's automotive semiconductor market – with a compound annual growth rate of more than 10% in the four major areas of powertrain, lighting, active safety and body. ON Semiconductor, which is a global leader in many automotive applications, will focus on these four areas, with advanced LED lighting ICs, BLDC motor drives, power modules, in-vehicle networks, LDOs, SMPS, PMUs, image sensors, Ultrasonic sensors, ignition systems, electromagnetic drives, MOSFETs and IGBTs are key growth drivers, and continue to invest in the Chinese market. Together with local application engineers and field application engineers at the Automotive Solutions Engineering Center (SEC) in China, they will continue to respond to the market. Demand to help customers solve their unique design challenges.
South America Extension Sockets
Wall Socket,Electric Wall Socket,British Plug Adapter,Recessed Power Outlet
Heikki Technology Co., Ltd. , https://www.heikkipower.com