The first six LED display market performance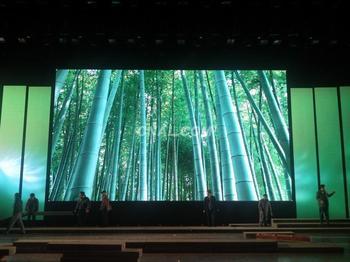 Nowadays, the LED display presents some of its features. Compared to the continuous warming of the LED lighting market, the LED display market is even more depressed. To sum up, in the first half of 2013, there were the following six major performances.
First, price cuts: helplessly continue. The decline in the price of LED display terminal products can best reflect the frustration of the industry. A company has stated that the average selling price of LED full-color display products in 2009-2011 was RMB 12,400, RMB 12,000 and RMB 10,700 respectively. The average selling price in 2011 fell by 13.71% compared with 2009. The company did not indicate the price of products in 2012 and 2013. In fact, according to the average selling price of the market, the prices of full-color LED display screens range from a few thousand dollars per square meter. The open bids from manufacturers are based on different materials and processes. Taking outdoor P10 as an example, the price per square meter ranges from 3,000 to 10,000 yuan. If it is an indoor full-color display wholesale, the price is even lower. This shows that the continuous decline in the prices of LED display products in 2013 is an indication of industry competition, and this trend will continue.
Second, run the road: time bombs. In 2013, the living environment of LED display companies was not optimistic. In particular, small and medium-sized enterprises that do not have scale advantages and have no product advantages can hardly find a balance point in the cracks. As the price of LED displays has become increasingly transparent and the payment cycle has become longer and longer, enterprises that do project projects have to cope with the entanglement of customers and take responsibility for suppliers. Therefore, if a bad debt or product is found in a period of time, it may cause problems. The entire company can't turn around and finally has to bankrupt. The billion-dollar enterprises such as Big Eyes, Haobo, Vision, and Everlight are equally unable to escape the bad luck, and the impact of their collapse is enormous, leaving behind a huge pile of debt. Finally, the injured employees and suppliers are still innocent.
Third, the channel: continuous hot. The battle for channels has always been a contestable spot for LED lighting companies. However, LED display manufacturers have also been keen to expand channels in recent years. This is mainly because display products have become increasingly standardized and scaled. Who can get the support of dealers across the country, who will be able to cover the national market and expand brand influence.
Fourth, expansion of production: non-stop. Some people say that the market competition in the LED display industry is so encouraging. How can someone expand production? In this regard, not all companies are compressing their own businesses. On the contrary, the downturn in the market has also given up some business opportunities while eliminating some companies. As Sanan, BDO Runda and other chip leading enterprises have obtained numerous preferential or direct subsidies from the government for expansion, Liad, Lehman and other companies have also continued to expand production due to the needs of the industry, and built industrial parks as follow-up companies. Prepare for production. Of course, some manufacturers of display screens are still expanding their production. Although their profits are thin, their business seems to grow bigger and bigger.
Fifth, subdivision: it has become common practice. When the LED display market is already saturated with the saying that it has begun to circulate in the industry, many forward-thinking companies have begun to focus on emerging market segments. The display competition in the conventional field depends on the strength and price of the company, but the more subdivided the market is depends on the technical capabilities of the company. At present, the LED display industry has gradually opened up some new growth highlights, such as high-density, small-pitch LED display, and thus put forward the concept of LED super TV; such as outdoor surface-mounted LED display, which will be outdoor display Future alternative devices such as Shenzhen Hernor Electronic Technology Co., Ltd. based on its spherical LED display, continue to develop LED display screens, LED display columns, LED cans and other creative LED display screens. Uniquely competitive.
Sixth, integration: has become a trend. Integration includes horizontal integration and vertical integration. Enterprises can choose the integration method according to their own development needs. Shanghai Sansi Technology and Chau Ming Technology transitioned LED lighting, and at the same time, separated marketing by display and lighting was an integration; Sanan Optoelectronics and National Star Optoelectronics had an antenna throughout upstream chip, midstream packaging and The downstream application area is also an integration; Taiwan Epitech's strategy is to use virtual vertical integration as a strategy to strengthen its application at the seaport of the application; more display companies are tied up with suppliers or alliances. Form the integration action. In short, integration is already an overwhelming trend in the LED display industry and a direct enabler of the future market landscape.
1.High model conversion efficiency,more than 19%,reducing installation costs and maximizing the kwh output per unit area. 2.power tolerance of -3% to +3%minimizes PV systems mismatch losses.
3.Excellent performance under low light environments.
4.High transparent,low-iron,tempered glass,and antireflective coating.
5.Five years warranty,25 year using life,good quality.
Mono Panel,Mono Solar Panels,Monocrystalline Solar Panels
Yangzhou Beyond Solar Energy Co.,Ltd. , https://www.ckbsolar.com