Zhang Jindong: Home Appliances Trade-in Policy
"Energy-saving benefits" air-conditioning subsidies, "old for new" and other policies have expired, "home appliances to the countryside" policy is also terminated in some areas. As a supporter of home appliances to the countryside, Zhang Jindong, member of the National Committee of the Chinese People's Political Consultative Conference and chairman of the Suning Appliance Group, suggested that it is still necessary to introduce a continuation policy for home appliance consumption during the period of policy consumption. In addition, this year's "two sessions" he brought in three other proposals, namely, the "proper increase of consumption subsidies for low-income groups' basic living materials" in the field of people's livelihood, and the "recovery of domestic demand for the restoration of May Day Golden Week" in the field of cultural life. "Life" proposal, as well as the "regulation of the e-commerce market order to improve the relevant legal system" in the field of e-commerce management. In an interview, Zhang Jindong also disclosed that Jingdong Mall is not an opponent of Suning, considering removing the word "electricity" from the company's name and entering all areas of consumption.

Keywords: home appliance consumption policy

"Appliances stimulate consumer policy should continue"

Beijing News: You mentioned in the two conferences that "consumer appliance consumption continues to be necessary". What are the reasons?

Zhang Jindong: In 2008, the country successively launched home appliances to the countryside, trade-in, energy-saving benefits of air-conditioning subsidies to stimulate consumer policies, has greatly released the consumption capacity of urban and rural residents, promoted the upgrading of consumer structure, and promote the recycling of waste household appliances to deal with the development of environmental protection industry.

At present, the global economy is at the bottom of the second period since the European and American financial crisis, resulting in a slowdown in investment and export growth in the "troika" that has driven China's economic growth, plus subsidies for energy-saving and air-conditioning, trade-in replacement, and household appliances. Township and other three major policies have expired or some areas have expired, household appliances companies face the market down, cost pressures, overcapacity three tests. Therefore, this year we hope that the country will launch a new policy of stimulating consumption of household appliances innovatively, focusing on the overall direction of promotion fees and growth.

Beijing News: It was also reported that the Ministry of Commerce had considered issuing a follow-up policy. If you want to introduce a new consumer appliance policy, what advice do you have?

Zhang Jindong: I propose to carry out "subsidies for the purchase of energy-efficient home appliances", "strongly promote credit consumption," and "direct subsidies for buyers of affordable housing."

Beijing News: What changes do you think the future of energy efficiency subsidies should have?

Zhang Jindong: I hope the government will subsidize consumption of energy-efficient air conditioners, electric water heaters, refrigerators, televisions, and washing machines. On the one hand, it continues to stimulate the domestic market for household appliances, and on the other hand, it promotes the promotion of high-efficiency household appliances and further achieves the goal of energy conservation and emission reduction.

Beijing News: How to subsidize it?

Zhang Jindong: It is suggested that the consumption subsidy for energy-efficient home appliances should be controlled at about 5% of the sales price of goods, and it should not be bundled with old home appliance recycling policies. This will not only stimulate the home appliance consumer market, but also affect control. Within a reasonable range.

Beijing News: Why recommend the implementation of "credit consumption" policy?

Zhang Jindong: At present, consumer credit has become the "new darling" of stimulating consumption. However, at present, residents' credit consumption in China needs to bear about 10% of the annual fees and interest, and high transaction costs have become one of the concerns of consumer credit consumption.

Therefore, it is recommended that the country reduce the bank deposit reserve ratio linked to the amount of credit consumption, and the consumer circulation companies jointly carry out bank installment activities with low interest rates. Banks and enterprises share the transaction costs and relieve consumers of their worries. This can effectively reduce financial risks while promoting consumption and stimulating domestic demand.

Beijing News: Why should we recommend direct subsidies for affordable housing?

Zhang Jindong: From 2012 to 2013, China will complete 17 million sets of affordable housing, which is a huge market opportunity for related real estate supporting industries such as building materials, household appliances and home appliances.

At the same time, the protection of housing investment is also an important weight to maintain economic growth. Therefore, I propose to implement a direct subsidy policy for home appliance consumers in order to protect housing buyers.

Keywords: improving people's livelihood

Give "red envelopes" to low-income groups

The Beijing News: "Improving People's Livelihood" is still a hot topic at the two sessions this year. What advice do you have?

Zhang Jindong: In recent years, China's various undertakings have made great achievements. However, the imbalance in economic and social development has led to differences in the standard of living of the people. Low-income groups often face difficult living conditions, and even a minimum of survival is a problem. Especially in the current situation of high inflation, all sectors of society should pay attention to low-income people and ensure that they can share development achievements with all sectors of society.

Beijing News: What should be done specifically?

Zhang Jindong: First of all, we must address the basic survival of low-income groups. We can learn from the experience accumulated during the implementation of subsidy policies such as "Home Appliances Going to the Countryside" and "Old-for-new", and issue "consumer-subsidized coupons" to low-income people.

The beneficiaries are the national special care objects, urban subsistence allowances, rural subsistence allowances, five guarantees, and urban unemployed persons. The residents' committee or the village committee conducts on-site investigations and submits the examination and approval materials to the sub-district offices or township governments for accounting purposes, at the county (district) level. The government approves and ensures that the audit is in place. "Consumer-subsidized vouchers" can only be consumed at designated merchants for the purchase of basic living materials such as food, clothing, and electrical appliances.

Beijing News: Before the implementation of "home appliances to the countryside" and other policies, some problems occurred. Some businesses even collude dealers to "cheat up". How can the low-income groups enjoy the benefits of subsidy policies in the future?

Zhang Jindong: The government should openly invite tenders and choose the most reputable and powerful businesses in this policy-oriented business service in a fair and just manner. At the same time holding "consumer-subsidized vouchers" and my identity proof can be used for effective consumption. The merchant retains a copy of the ID card in preparation for verification by the financial department at the time of settlement.

Keywords: May Day "Golden Week"

"Resumption of 3 days statutory holidays"

Beijing News: In 2009, you suggested that you restore the "Golden Week" of May Day. How did you revisit this proposal this year?

Zhang Jindong: Increasing legal holidays can not only effectively stimulate domestic demand, but also enrich people's lives.

Practice has proven that the development of the holiday economy represented by the "Golden Week" is very significant in stimulating consumption. In addition to driving GDP growth, the "Golden Week" is also important for enriching people's lives. Therefore, I again propose that the "Golden Week" should be resumed as soon as possible, and May 2 and May 3 should be added as statutory holidays.

On the industry "Su Ning wants to be Amazon + Walmart"

Beijing News: How do you see Gome and Dangdang's alliance?

Zhang Jindong: The Internet does have innovation, but in any industry, successful models and formats cannot be speculative.

Beijing News: Will Suning form an alliance?

Zhang Jindong: Suning will never follow suit in doing anything. In the final analysis, e-commerce is ultimately a matter of business. There is no strong back-office service, product, management system, or brand capital.

Beijing News: According to the performance report of Suning Appliance, in 2011, Suning's revenue was RMB 5.9 billion, which did not reach the set target of RMB 8 billion.

Zhang Jindong: Last year, the company's internal assessment criteria for e-commerce was 5 billion, and the target task was 8 billion. The assessment has been completed. After the e-books went online, they also exposed many problems. Suning has never specifically pursued sales. We are not Jingdong Mall. There is no need to hype for the introduction of PE.

Beijing News: However, the size of Suning's e-commerce is still far behind Jingdong.

Zhang Jindong: As long as the company develops according to the guidelines, no one in China has been able to compete with us within three to five years.

Beijing News: How do you see Jingdong Mall?

Zhang Jindong: For example, with a child who hasn't been beaten, how can we fight with him?

Beijing News: Before you said that online shopping is a supplement to physical stores, how do you evaluate e-commerce now?

Zhang Jindong: Tesco employees will reach 20,000 in the future. E-commerce gives Suning the opportunity to expand its product line. We are likely to exceed Wal-Mart within five or ten years. Before the Prime Minister visited Suning, he said that he hopes Suning will become Wal-Mart, but now we feel we must become Amazon + Wal-Mart.

Beijing News: The Suning Appliance completely transformed itself.

Zhang Jindong: In the future, Suning is not simply an electrical enterprise but a technology company. I consider removing the word "electricity" in the name of "Suning Appliance."
Digital Timer automatically turns the power of various powered devices on and off according to the time set by the user. The control object can be a street lamp, a neon lamp, an advertising sign lamp, a production device, a broadcast television device, and the like, and all power devices and household appliances that need to be turned on and off periodically. Built-in 1.2V/40mA can be charged, high precision, industrial grade chip, strong anti-interference.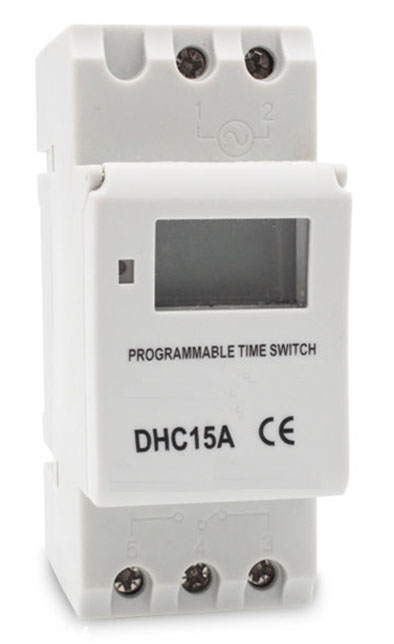 Timer Relays,Time Delay Relay,Digital Timer Switch,24 Hr Timer Relay
Ningbo Bond Industrial Electric Co., Ltd. , https://www.bondelectro.com