Mr. Xiao Qing, President of Shiqiang, was invited to tour the "Extraordinary Employer" tour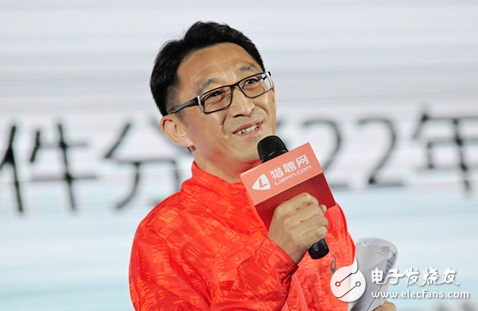 On December 6th, Mr. Xiao Qing, President of Shiqiang, was invited to make a tour of "Extraordinary Employer" and talked about "Entrepreneurship". He shared the
most reliable Internet entrepreneurial project that
Shiqiang had been working on for two years
– the intelligent hardware innovation service platform
.
Three entrepreneurships, 17
full-time marathons in
four years
, 22
years of global advanced electronic components distribution, the captain of the business school Gobitan Challenge champion team,
these experiences show the persistence and team, and Mr. Xiao Qing can reach the current height. The important reason. He said: "
Entrepreneurship is the persistence of impulsiveness. Entrepreneurship is a matter of the team rather than a personal matter.
"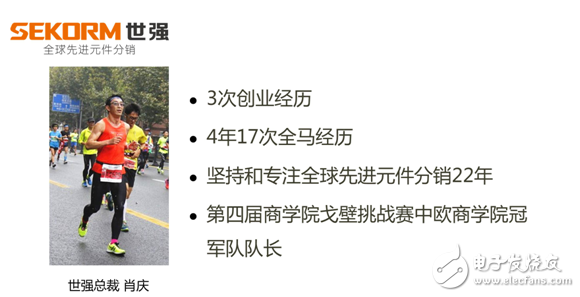 He did it.
Since its establishment
22
years
ago
,
Shiqiang has
been focusing on intelligent hardware innovation services
. It is the best electronic component distributor in China. The service basically covers all the hardware innovation fields in China, including Huawei, ZTE, BBK, Leibai, etc. Many famous trademarks. From the smart hardware field in China to the smart phones, wearables, and drones, to the industry 4.0, high-speed rail, aircraft, and defense radar, they are closely related to Shiqiang.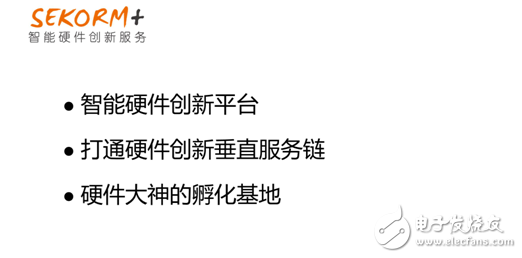 Mr. Xiao Qing said: "
In the
era of
Internet
+
, traditional enterprises can only find a real way out through innovation. China's hardware innovation is there, but we think it is not enough.
" So, he started his third venture and
started. Create a brand new brand -
SEKORM+
.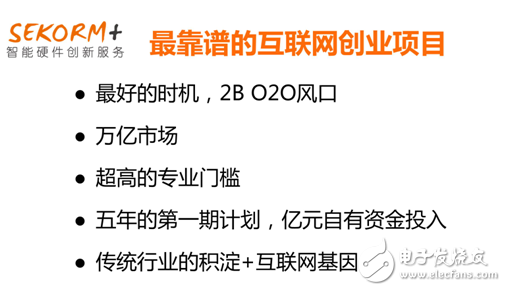 What is SEKORM+ and what are you doing? Mr. Xiao Qing is so to tell you: "SEKORM + vertical O2O project 2B, although positioned as 2B, 2C but in fact is a need to connect, to face China 50-100 million for hardware engineers, to train them to become hardware Great God,
we Call it the intelligent hardware innovation service platform. We are going to use this platform to open up a
hardware vertical service chain that
we call "know, select, research, use"
and use the resources accumulated by Shiqiang for many years to bring the most advanced things abroad. And technology brings to domestic companies to help hardware companies achieve more innovation.
"
Mr. Xiao Qing pointed out that
China's semiconductor components are a trillion-scale market and a market for professional segmentation services, which requires a high professional threshold.
So, although the market is so big, BAT, including JD.com and other Internet big coffees are not here because it needs to be professional enough. Shiqiang, which has been focusing on intelligent hardware innovation services for 22 years, has a unique advantage in how to subvert this market.
Mr. Xiao Qing said:
"Shiqiang not only has
22
years of accumulation
in the traditional industry
, but also has Internet genes."
Many of the team members including Mr. Xiao Qing are from the Electronics University and Harbin Institute of Technology, all have software. And the Internet background, so there is no shortage of Internet genes.
Mr. Xiao Qing said:
"In the
January 11
Japan single section, Shiqiang intelligent hardware platform for innovative services -" Steptoe element electricity supplier "APP
and WEB
end, will be formally launched at the same time will be sent to one thousand hardware engineers Marriott's ceremony."
It seems that there are big events in the electronic circle. Xiaobian I am ready, what about you?
About Shiqiang
<br> Shiqiang Advanced was established in 1993 and includes Anwara, Renesas Electronics, Silicon Labs, Rogers, Melexis, Infineon, Acam, Alliance, Micrel, Littelfuse, NEMICON, EMC & RF Labs, EPSON, Cpyress, Vincotech, SMI, Ricoh Microelectronics, Keysight and other world-renowned semiconductor companies and test and measurement instrument companies are important distributors in Greater China, and are also important suppliers of many electronic manufacturing and R&D companies. In addition to covering the traditional industrial, communications, consumer and automotive electronics sectors, the business is bringing more cutting-edge technologies and innovative products to the emerging markets of Internet of Things, Internet of Vehicles, Wearables, and Smart Mobile Devices.
As a technology-driven distribution company, Shiqiang also has a mature technical support team and system service processes to provide customers with new product introduction, rapid sample, application consulting, solution and software design, development environment, after-sales and logistics. Professional services. In 2014, Shiqiang had annual sales of US$232 million and has 17 branches and offices throughout the country, with nearly 500 employees.
Our spider grow light adpot Samsung and osram leds as light source, all the series is Full spectrum led grow lights.
The product can be fixed on the ceiling of shelves, or hangering installation.
We can supply the whole site solutions to place the best effect at the lowest cost. OEM & ODM is available.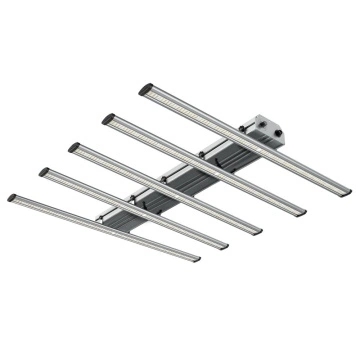 400W Spider Grow Light, Grow Light 5 Strips,Grow Light Bar,Grow Light Shelf,Plants Grow Lamp
Shenzhen Zhenyang Century Technology Ltd. , https://www.growlightzy.com